'Practical' series Austrian longsword (fourth generation)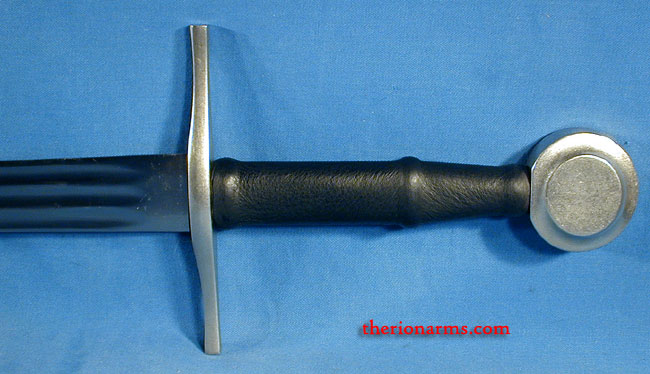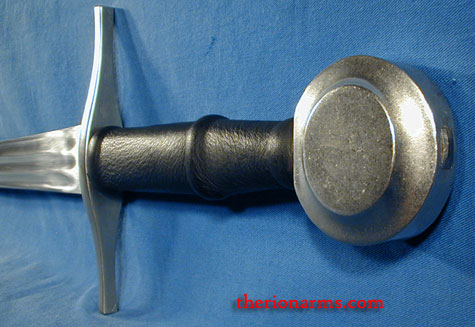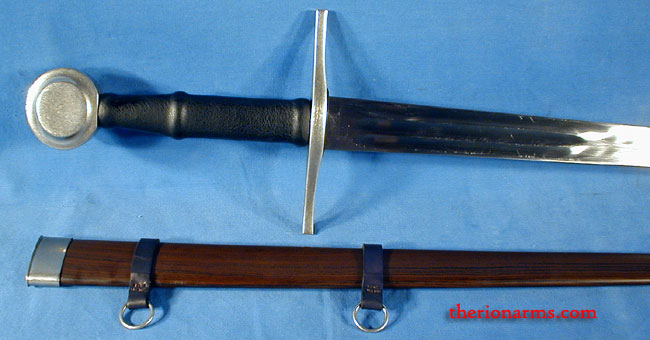 length: 44"
blade: 34 3/8"
blade width: 1 3/4" at base
blade width: 5/8" at 2" from the tip
grip and pommel: 9 1/8"
guard: 7 5/16"
balance point: 3" from guard
weight (sword): 3 lb 5.2 oz
weight (sword & scabbard): 3 lb 13.6 oz

This is actually generation 4.5 of the Paul Chen / Hanwei Practical series Austrian longswords. The fourth generation started in early 2008. They were extremely light, around 2 lb 9 oz, with hollow pommels and super-flexible blades - rather *too* light and flexible for re-enactors and sword students who were used to the third generation blades. Paul Chen / Hanwei heard our protests, and changed the blade temper so that while the swords are still flexible for safety, they're not as whippy/floppy as the first production runs. The pommels have also been improved - they are now solid rather than hollow, resulting in better blade balance and durability. The triple-fullered blade still features rounded edges and a more rounded tip than in the previous generations, making the sword much more responsive and safer in the full-contact use for which it was designed. There's a reason why the practical series swords are some of the best sellers here at TherionArms!
This Austrian longsword (commonly called a hand-and-a-half or bastard sword) is replicated from an original attributed to King Albrecht II of Austria. Classically simple in design with a flattened diamond-section blade and cruciform hilt, the original dates from the early part of the 15th century.
The Paul Chen/Hanwei 'practical' Austrian longsword is tailored to the needs of the re-enactor. Featuring authentic hilt styling with fully tempered rebated and non-pointed blades, these swords are made to withstand rugged use while providing the level of safety required by many of today's re-enactment societies. The blade is fullered for balance and has a rebated edge and a rounded tip. Includes a wood-grained fiberglass resin scabbard with suspension hangers and steel fittings.
You can compare the fourth generation sword with the older third generation practical series longsword.
Discontinued

See the Practical longsword fifth generation listing
for the currently available version.