Guatemalan knife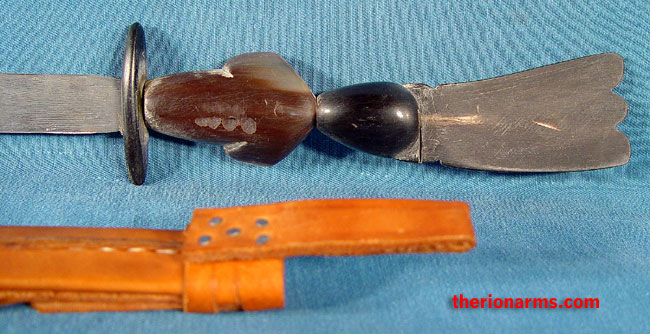 length: 12 1/2"
blade: 6 1/2"
blade width: 3/4"
grip figure: 3 1/4"
grip figure's hat: 2 3/4"
guard: 2"
weight (knife): 2.9 oz
weight (knife & sheath): 3.5 oz

This knife is typical of the type produced in Chichicastenango, with a hand-shaped carbon steel blade and horn figural grip with an elaborate headdress. Mid to late 1900's.
Wikipedia info: Chichicastenango, also known as Santo Tomás Chichicastenango, is known for its traditional Maya Indian culture.
The Spanish conquistadors gave the town its name from the Nahuatl name used by their soldiers from Tlaxcala: Tzitzicaztenanco, or City of Nettles.
Its original name was Chaviar.
Chichicastenango is a small and stucco-white town, lying on the crests of mountaintops located about 87 miles northwest of Guatemala City at an altitude of 6,447 ft.