German bastard / hand-and-half sword - Wallace A477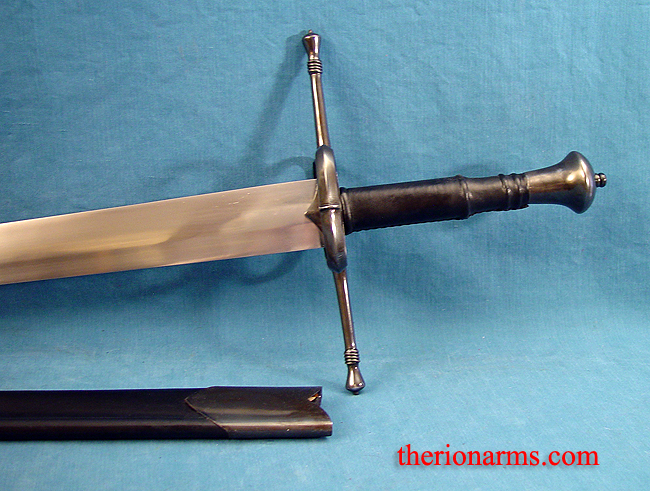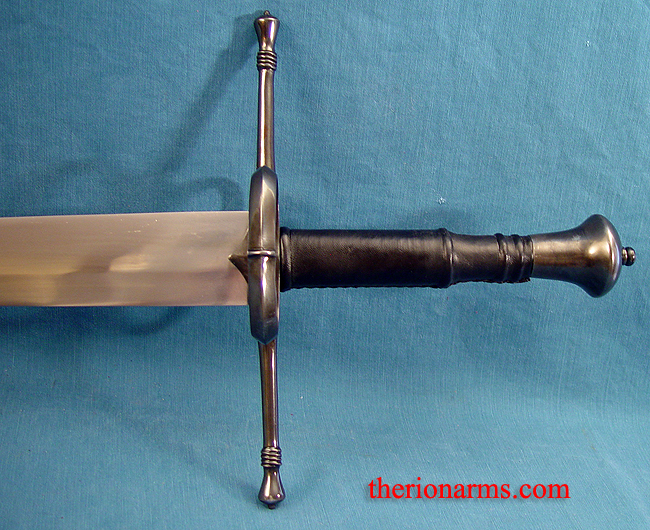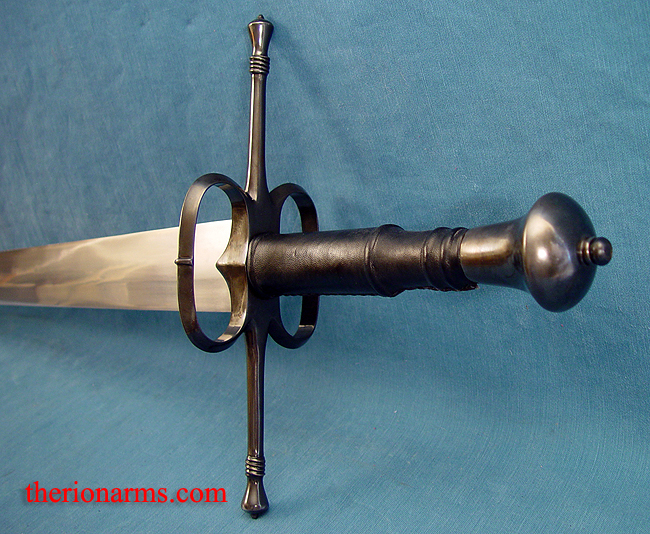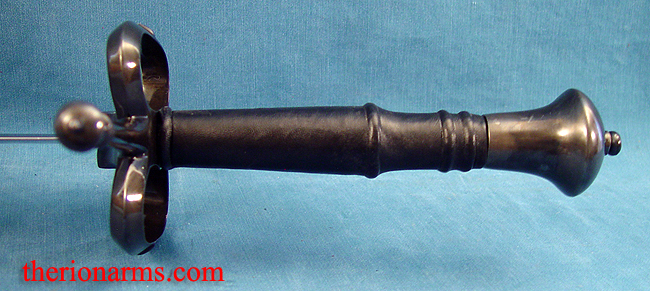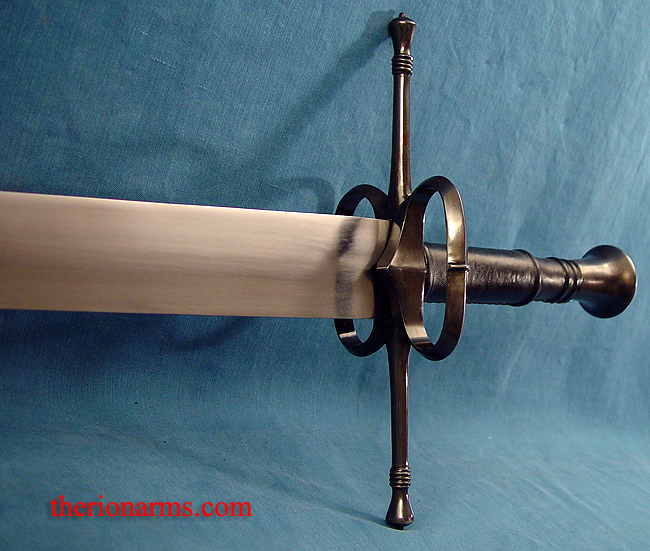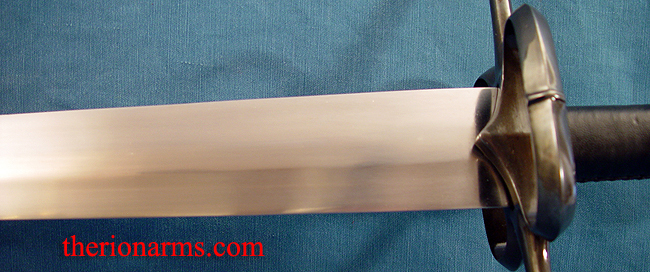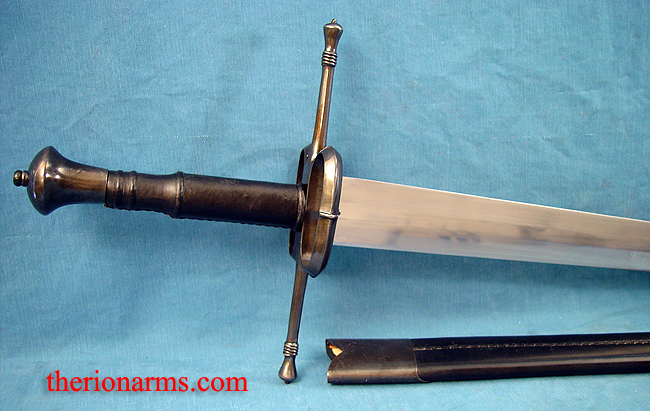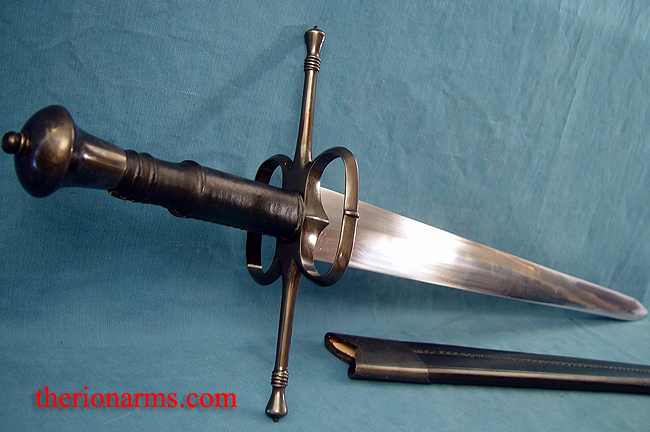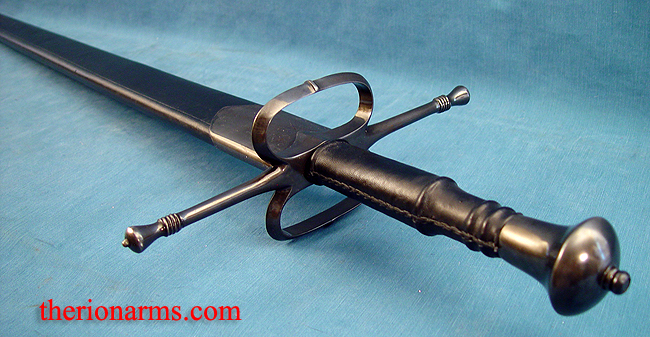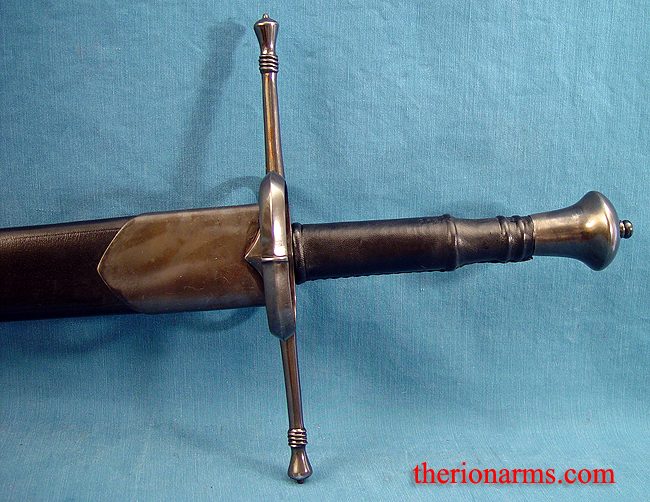 A wide-bladed cutting sword: German, circa 1510, replicated from The Wallace Collection's sword A477. A truly vicious hand-and-a-half sword / bastard sword. The wide blade with a flattened oval cross section makes for a powerful cutting weapon, and the close-in balance point makes it quite fast and efficent. The proportions of this sword are that of a large arming sword, but with an extended grip and a retaining pommel that easily accomodates two hands for blows (it really is halfway between an arming sword and a longsword). The grip is cord-wrapped wood covered in leather, the long quillions have decorative finials, on the end and the side rings provide good hand protection. The tempered high carbon steel blade comes edged but not sharpened, but is eminently sharpenable. An antiqued finish wood, leather, and steel scabbard completes the sword. A prime example of Renaissance craftsmanship and design.
length: 38 7/8"
blade: 30"
blade width: 2 1/8" at base
blade width: 1 5/8" at middle
blade width: 1 1/8" at 2" from tip
grip and pommel: 8 1/2"
guard: 11 1/2"
rings: 3 3/4" x 2"
balance point: 3 1/2"
weight (sword): 4 lb 0.5 oz
weight (sword and scabbard): 4 lb 12.0 oz

Here is the original in the Wallace Collection: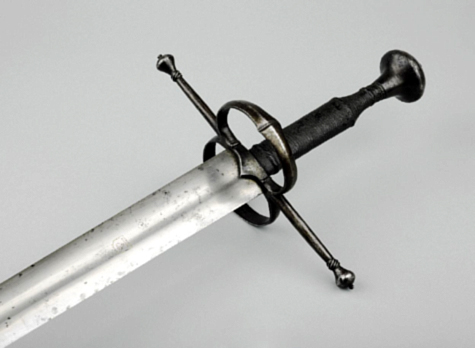 "A477 SWORD (Bastard or Hand-and-Half)
The HILT of blued steel; pear shaped POMMEL, straight QUILLONS, round in section, ending in pear shaped knobs, with a spiral or roped collar: SIDE-RING on either side. The grip is shouldered, bound with cord and covered with leather. The broad, two-edged BLADE has a shallow hollow running three quarters of its length. The maker's mark is a bell within a shield, inlaid in copper on both faces 5.5" from hilt.
L. 37 5/8"; W. 2 1/8"; Wt. 4 lbs 8 oz.
German (about 1510)
De Beaumont Catalogue, No. 68.
Provenance: Comte de Niewerkerke
A sword with a like mark is in the Hermitage, Leningrad (Lenz, 1908, B 398)"