V-42 combat stiletto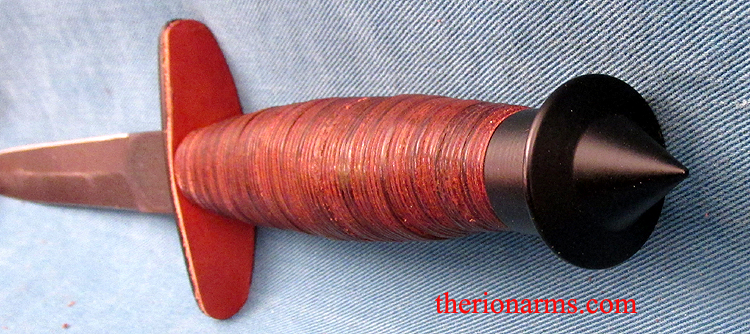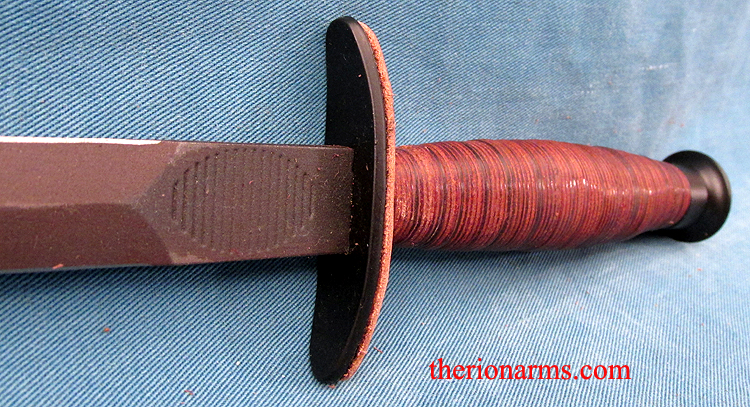 The V-42 was based on the on the famous British Fairbairn/Sykes commando knife and was issued during World War II to the First Special Service Force, a joint American/Canadian commando unit known as the Devil's Brigade. While the V-42 was similar to the Fairbairn/Sykes knife, the V-42 blade cross section had concave hollow ground blade facets in contrast to the Fairbairn's flat four sided diamond. The narrower blade profile was designed to optimize thrusting penetration. The original V-42's were made in the United States by W. R. Case & Sons Cutlery Co.
This reproduction features a blued 1566 high carbon steel blade, a skull-cracker butt cap and a stacked leather washer grip. Since the Devil's Brigade was a cold-weather operations unit, the sheath is designed long to hang beneath the bottom of a G.I. parka.
Here's an original:

length: 12 1/2"
blade: 7"
hilt: 5 1/4"
weight: 7 oz

Price: $95