Nilotic African sword and dagger set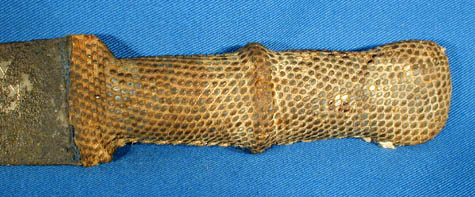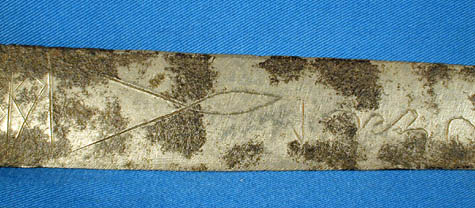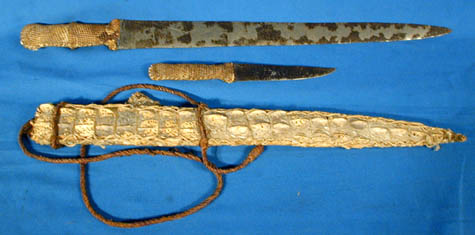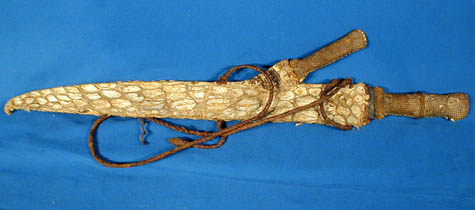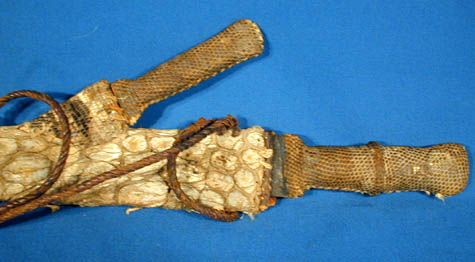 Nilotic African sword and dagger set
shortsword length: 20 1/2"
blade: 15 3/4"
blade width: 1 1/2"
grip: 4 3/4"
knife length: 8 1/2"
blade: 4 1/2"

Shortsword and dagger set with crocodile skin grips and scabbard. By style they're definetly African, but I'm not going to hazard a guess as to exactly where from, but most likely from the north central area of the continent. More information welcome. The shortsword and knife were quite rusted when I received them, they've now been somewhat cleaned and somewhat restored, although I'm loathe to go too much further. Cleaning revealed geometric line designs and a phrase in cursive script on both sides of the shortsword, and petroglyph-type figures on the knife blade. Normally, one should not overly mess with the patina that has developed on antique weapons, but these came with live rust and it wasn't sleeping. Don't attempt antique sword cleaning at home without first consulting an antique weapons professional. However, if you have live red rust on any blade, immediately douse it with WD-40 to kill the rust, wipe off the WD-40, then apply gun oil or a light machine oil. Rust sucks.
5/23/01