Uzbekistani pichok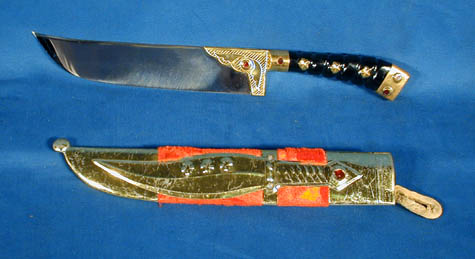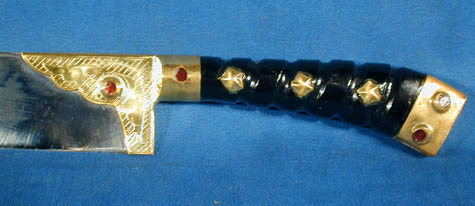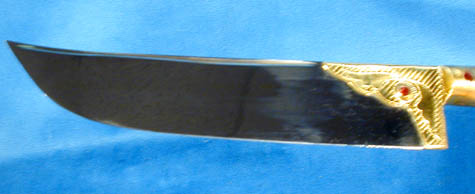 length: 11 1/2"
blade: 7"
blade width: 1 7/16" base
grip: 4 1/2"

I first thought this was a reproduction of an older style of knife, but then a nice young lady mailed me the following information:
"Just FYI: the proper name for this knife is Pichok. It sounds suspiciously similar to the Turkish Bichaq or to the South-Indian Pichangatti. Since Uzbekistan was a close neighbor of Turkish-Afghani Moghuls, the Indian connection may not be totally unexpected. Another similarity between the three is their scabbard: deep to the point that only the very top ob the handle is sticking out. In the not so distant past, every adult Uzbeki man had a Pichok hanging from his belt; without it he would feel naked. This knife plays a myriad of functions: from slitting a throat (sheep, human, Russian) to cutting a piece of bread or slicing a watermelon."
Recently, my colletor friend Sa'ar Nudel wrote from Israel to let me know that
"The Pichok is by no means a repro, but a using piece done to these very days. The materials show the change of time, when plastic is more availale for handle rather bone, horn or ivory. In the recent movie "Luna Papa" (German/Tajiki cooperation) filmed on loction in Tajikistan with local tribesmen, several can be seen with pichoks hanging from the belts."