Horstmann & Sons practice schlager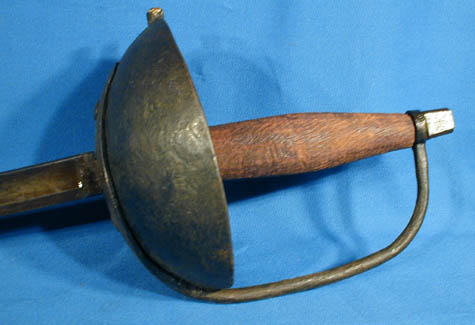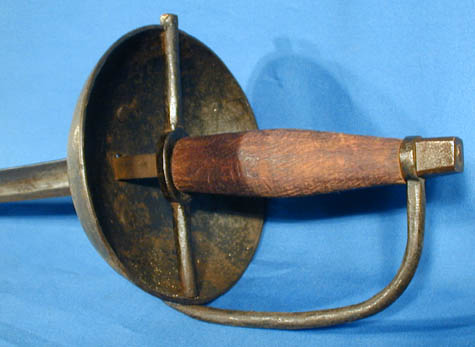 length: 41"
blade: 32"
blade width: 13/16"
grip: 5 1/2"
grip ricasso: 1 1/4"
bell guard: 5 1/2"

Really bitchin' practice cavalry saber made by Horstmann & Sons, Philadelpha, makers of some of the finest War-Between-the-States era fighting swords. Horstmann was in business from 1817-1954, I'm betting that this sword is definetly from the earliest years of their business. 1800's American and European sabers have not been among my areas of specialization up until now, but you'd better believe I'm currently doing my web research and have ordered a bunch of American and German sword identification books from Amazon. I'll post more exact information on this sword's manufacture as soon as I find out.
The blade is in beautiful condition, 5 1/6" thick at the base, tapering down to a flat edge past the fuller. Immaculate flex and temper. The bell guard, crossbars, and D-guard are quite solid, and there's a ricasso space above the crossbars for looping a finger over to solidify grip and control. The grip is hard wood, may have originally been spiral wrapped with leather and wire - I'll let you know when I find out. Totally sweet, and yes, I could supply a pair of them.
While this sword was up for auction on eBay, I was asked to further describe the markings and condition:
"I saw your item-Horstmann training cavalry saber--and was hoping that you could give me a little more information about it before the auction closes. Can you please tell me: is it marked? if so, can you provide information about the marking ( location, numbers, dates, text, etc.); has the item been "cleaned" or restored recently? Any other information about this item would be greatly appeciated. Thanks."
The only markings are on the forte of the blade, which is stamped "Horstmann & Sons Philadelphia" on one side. There's a partially visible manufacturer's mark on the other side of the forte, not recognizable on this sword but the matching one clearly shows a long-haired man wearing a crown - by comparing the two blades you can see that the mark on this sword is also the crowned man.
Bruce Bazelon's 1997 book "Horstmanns: The enterprise of military equipage" shows that the phrase "Horstmann & Sons" was used on Horstmann goods between 1843 and 1893. The crowned head trademark is from the Weyersberg family of swordmakers in Solingen, Germany, and was in use from 1787-1883.
When I received the swords I gave them a light rub-down with WD40 to catch any live rust, then applied a light coating of oil. Other than that, they don't look to have been "restored" - the patina is dark and even.
5/23/01