Argentinian Marine saber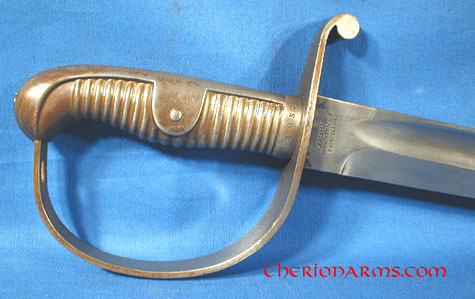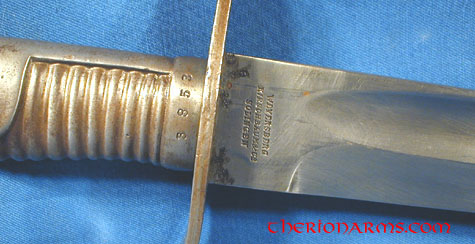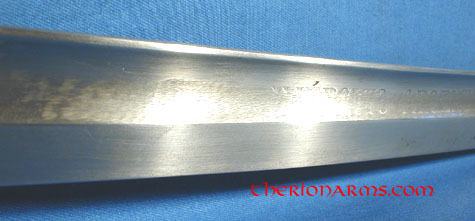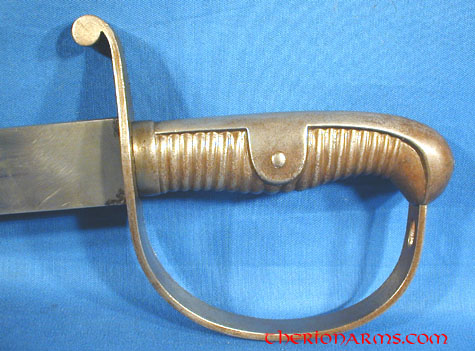 Measurements
length: 32 1/4"
blade: 26 1/2"
blade width: 1 1/2"
grip and pommel: 5 1/2"
guard: 6" x 5"
weight: 2 lbs 10.6 oz

Argentinian Army Marine saber, de-acessioned. All steel construction. Blade fullered on one side only, has an inscription in the fuller that has been mostly ground away, but research (and some help from other experts) has revealed that it says "Ejercito Argentino" (Argentinian Army). Manufacturered by Weyersberg, Kirschbaum & Cie, Solingen. "A" stamped on the spine of the blade near the hilt, "RA" in a circle on the belly of the guard and on the chape. German sword made for export to Argentina. This sword is not listed in any of the standard reference books, identification of model and year is pending.
information recently received from an antiques-expert buddy:
"The Argentinian Marine sabre. It would clearly date after 1883, as that year the firms of Gebruder Weyersberg and of W.R.Kirschbaum & Co. merged.These firms dated back to the earliest times of Solingen production and produced a formidable merchandising company. At that time there were the usual quality control issues challenging Solingen products with England and these guys wisely had Kirschbaum himself elected to the board for Wilkinson Sword!! About this time the new amalgamation also secured lucrative contracts producing swords for Brazil, Peru and most notably, Argentina. (source: "Sword & Bayonet Makers of Imperial Germany", John Walter, 1973, pp.177-78)."