Practical rapier blade














overall length: 44 1/2"
blade length: 37 1/4"
tang length: 7 1/4"
integral threads: 1 1/4"
weight: 13.3 oz

A blunted, flat-tipped, rubber-buttoned sparring rapier blade for fencing, safe training, and stage combat.
Made by Paul Chen / Hanwei, this blade will fit the following rapiers:
Solingen rapier
Solingen rapier - antiqued
Torino rapier
Torino rapier - antiqued
Gustav rapier
Gustav rapier - antiqued
swept hilt rapier - wood grip
swept hilt rapier - bone grip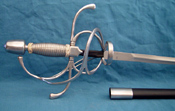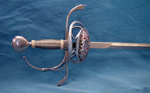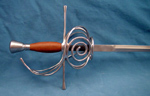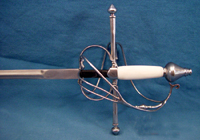 The above rapiers all come with sharp blades. This optional blunt sparring blade helps turn your rapier in to a full sharp/blunt weapons system. (The rest of the conversion is up to you - practice, practice, practice. Safely, please.)
Caveat: all fittings are hand-made and no rapiers are exactly equal, so you may have to do some minor filing or dremel-tooling to make the guards and grips fit perfectly, especially for the two swept-hilt styles. The blades are designed for modular interface with the Solingen, Torino, and Gustav hilts in particular.
Discontinued and sold out