collection begun 1989
served 10 dollops at at time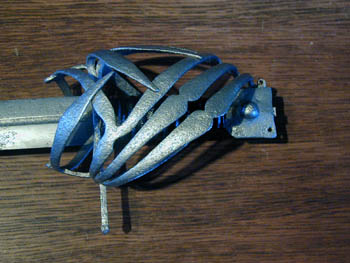 Inigo Montoya: You are using Bonetti's Defense against me, ah?
Man in Black: I thought it fitting considering the rocky terrain.
Inigo Montoya: Naturally, you must suspect me to attack with Capa Ferro?
Man in Black: Naturally... but I find that Thibault cancels out Capa Ferro. Don't you?
Inigo Montoya: Unless the enemy has studied his Agrippa... which I have.
"Don't torture yourself, that's what friends are for" -- found on alt.sex.bondage
Do not panic. Think only of yourself -- Hawkwind
Alt.angst is the equivocal net effect of Walt Disney setting loose his creation on Vietnam.
The Oval Office: Because there are no corners, there is nowhere to make the President sit when he has shamed the nation.
Can you imagine the uproar if there were studies showing that low income tax breaks, infrastructure spending, and other stimulus did magnitudes more for the economy than capital gains cuts and tax breaks for the wealthy?
You can be a honest player all you want but you will never win a rigged game.
Celibacy is not an inherited characteristic.
The Hebrews have done more to civilize men than any other nation. If I were an atheist, and believed in blind eternal fate, I should still believe that fate had ordained the Jews to be the most essential instrument for civilizing the nations. -- John Adams
Armourers seem to suffer mostly from depression, lack of motivation and tend to be loners. Every armourer I know or know of seems to have a bit of it. Some are able to overcome their handicap and make a living; others try and just dig embarrassing holes for themselves and are publicly vilified for their inability to meet an obligation. -- Gwen
(reload page for more wisdom)

have come here seeking enlightenment