collection begun 1989
served 10 dollops at at time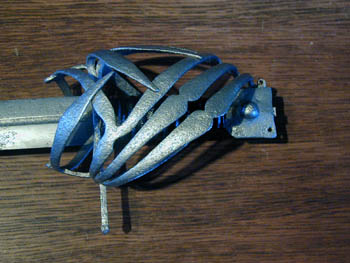 The issue is not whether you're paranoid...the issue is whether you're paranoid enough.
The reason the Republicans have opposed stem cell research all these years is that they're afraid the Democrats will use it to grow a backbone.
Yet another strange behavior pattern of the Common Neocon (republicanus nincompoopus) is his insistence that politics is actually a sporting event. Instead of recognizing that 51% of the 50% of the people who voted, voted for Bush, means that the country is deeply divided, and requires a uniter (not a divider), the Common Neocon exaults in his vicarious triumph. "In your face!", he shouts, as though his team just won the Superbowl. "Bush won the election! Game over! Losers quit whining!" The fact that the country still needs to function and overcome many obstacles seems to have escaped the Common Neocon. The appeal of schaudenfreude and the insecurity that comes with an inconsistent and self-serving ideology trump any civic ideals. Human dignity and mutual respect fall victim to schoolyard competitiveness and childish spite." -- Clavis of Farkistan
Democrats play good cop to the Republicans' bad cop. But we're still handcuffed to the chair.
If you're not a liberal at 20, you have no heart. If you're still a liberal at 40, you have no brain.
"Anytime someone wearing a watch worth more than a house talks about class warfare, they should have a hose shoved down their throat and goose liver pumped in until they leak from the ears." -- Will Durst
Hey there miss emo chick, welcome back to reality. If you meet a vampire, he is not going to fall in love with you. You are not "forbidden" and "strangely alluring" to his otherworldly senses. You know what you are? Lunch. That's it. You're a self-cutting, angst-ridden, black-leather-wearing cheeseburger. -- oldsbone
Since when did bars become health clubs for bitchy non-smokers?
Hey hey! Ho ho! Rhyming chants have got to stop!
"You wouldn't know common sense if it crawled in your nostrils and bred with your boogers." -- theDavid

have come here seeking enlightenment